JAVIER ARTICA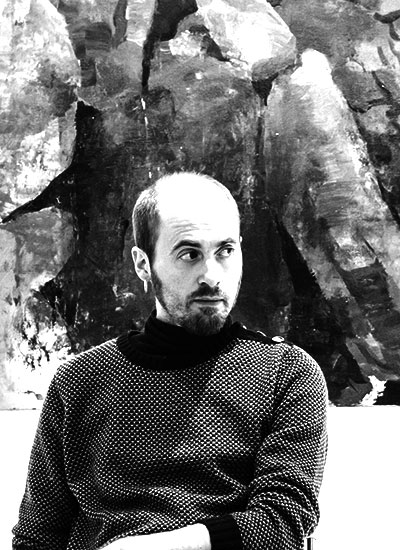 Born in Pamplona (1984). Bachelor of Fine Arts from the University of Salamanca (2003-2008). He has exhibited individually in cities such as Pamplona, Salamanca and Avilés. He has participated in various group exhibitions in Barcelona, Salamanca, Valladolid, Bilbao, Segovia, Toledo, Pamplona and Estella. He develops his activity in Madrid with painting and collage projects.
Javier Artica's work is mainly inspired by Nature. His artistic references are those of Critical Figuration and Realism. In addition to his oil paintings, the artist makes collages by hand with papers recovered from old magazines. The dreamlike and surreal universe of his collages serve as a basis, a sketch, and then create the staging of his paintings.
Conference « Stories Of Protection » with Javier Artica,
Madrid, 01/14/19.
« I feel the almost vital urge to tell stories »
Tournemire Gallery – The exhibition talks about some defense mechanisms existing both in Nature and in the social environment human being, can you specify how the idea of this series was born?
Javier Artica – The idea emerges little by little from life experiences. Several years ago I remember working on the idea of hostile environments and survival. This led to the topic presented in this exhibition. Since I finished my Fine Arts studies, I have been very in contact with rural environments and spaces unrelated to the cultural and artistic realm; and they are environments in which aggression in its deepest meaning is present every day. Aggression to the environment, to the other and even to oneself. When you are aware of these attacks, the first thing you think about is how to avoid them and here we come with the defense mechanisms.
T.G. – You often focus on the idea of concealment by depicting portraits of both celebrities and strangers. What's behind it?
J.A. – I think the idea of going unnoticed is very… how can I put it? reassuring. I like the representation of famous people from pop culture because they usually see the superficial part, their work, their brightness, etc. However, this overexposure cannot last over time without elements of concealment. To burn off without those elements must be brutal and suicidal. That is why I include the animal world in the exhibition and specifically the turtle, because in them it is natural to hide. Nobody asks why an animal hides, right? Well, the same should happen with humans.
T.G. – You paint nature, men and animals as a need to teach what surrounds us. Is figurative painting the best way to represent the world?
J.A. – Not necessarily. It is the way I use to communicate. I need a concrete representation because I am referring to precise things. And the figuration is apt for precision. This does not mean that I am not interested in poetry, but I need a concrete, figurative material with recognizable elements. For some time now, there is an almost vital need to create a meaningful map of existential orientation. Perhaps the figuration connects with this. Undoubtedly the Illustration Boom I think is due to that narrative feeling and orientation.
T.G. – An important part of your work is based on hand made collages in the best avant-garde tradition of the early 20th Century or the counterculture from the 70's. Why this way of approaching the creative fact?
J.A. – My arrival to collage came after a crisis of imagination, never beautifully put. There is a moment when I need to create new images having practically runned out of figuration in my painting. In the manner of the Surrealists with automatic writing, collage allows me to create new conexions between elements and realities, it delivers a non-traveled stage and images emerge easily. It is a mean that facilitates unlocking and dialogues with the unconscious if you know how to detect it. If you work on it and realizes that there are some elements that comes time after time, you already have interesting material to use.
T.G. – Your collages are clearly more surreal than the rest of your pictorial work and more leaned to narrative. Do you think that, in a way, this Pop and humorous Surrealism better conveys your ideas about reality? What would you consider to be more effective in terms of "world representation"?
J.A. – It is true that collages are more narrative than paintings. Despite the paintings, I conceive them as a whole; there is a story that connects them. The paintings actually work very similar to collage in the sense that in my mind I think of them with a set up that conects them. To understand a collage surely it is enough to look at it by itself. To understand a painting it is necessary to present it with others. The idea of setting up is essential in both cases. I think that as I conceive it, there is no supremacy between one medium and another. Perhaps collages are more likeable than paintings. The collage format may be more effective in representing the world because it connects with the current, which is a world basically made of images. The good thing about painting is that it is in an increasingly marginal space (in avant-garde terms) and that offers a lot of freedom.
T.G. – Do you like the idea of a "committed" art and, if that is the case, where would you stand related to this term?
J.A. – I like the idea as long as it doesn't become a label; it cannot be a pose because where there is a pose there is no commitment. Committed in the sense of being aware of producing images that cannot repeat worn-out stereotypes. We should not be slaves to the latest fashion or the successful discourse of this or that; It's tempting, but it doesn't make any sense. I am the first aware of the difficulty of all this. In essence it should be a commitment to the meaning of what we are doing.
T.G. – ¿ What is your analysis on the situation of the Art World right now?
J.A. – I would not know how to answer this question. I can only say what I have to deal with. To be honest, the Art World particularly doesn't interest me especially, in my opinión, the most interesting thing happens outside of it.
T.G. – How do you place figurative painting within the contemporary panorama?
J.A. – Like painting itself, figurative painting never returned because it never left. I like to think of painting as a primitive, slow and rough format. It is wonderful and horrible at the same time. I think figurative painting is an almost infinite field of possibilities. Let's say that I currently place it between abstraction and cinema / photography. The range of action is immense. It is the perfect mean of experimentation.
T.G. – Tell us a bit about what you are working on right now.
J.A. – I continue with the theme of this exhibition, but with variations, increasingly interested in the symbolic meaning of certain elements and their association with others. Aggression and its counterpart, protection, are universal issues and are very present today. I am very interested in this because it is in people's daily lives and in mine, of course. The more it interests me, it worries me.
G.T. – Finally, how would you like to evolve in your creation?
J.A. – I don't know. I like it to flow, there is a spontaneous part, it is like work. I suppose it will evolve along with my life and my worries.