ANTONIO ASENSI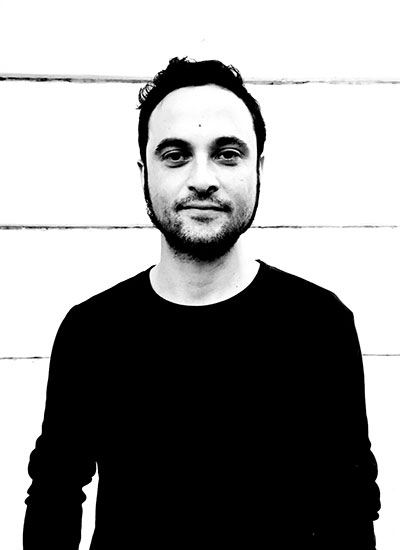 Antonio Asensi Gallardo (Valencia, 1979), graduated from the Faculty of Fine Arts in Valencia. He has exhibited and performed several performances in his hometown. In May 2018, we have dedicated his first important individual exhibition "National Bestiary" in Madrid. Besides, the artist publishes a satirical magazine titled "INSIDIAToday" where he stages humorously and caricaturally transvestite models posing in front of his paintings. His colorful and lively painting is characterized by a naive style. His stagings bring together, in the form of cliches, the different protagonists of Iberian folklore. We represent Antonio Asensi exclusively in France.
Individual exhibitions
2016 My country is a dead bailaora, Trentatres Gallery, Valence, Espagne.
2015 #serigrafíamediosalvaje #quierounavaca, Cosín Estudio, Valence, Espagne.
2014 Reptiles, Espacio 14 Huertas A.T.M., Madrid, Espagne.
2013 Angela Mordor, Cancillera Suprema de Modernia, Slaughterhouse Librería, Valence, Espagne.
2013 La jauría interna, Slaughterhouse Librería. Valence, Espagne.
Collective exhibitions
2015 Serendipia, La LLimera Associació Cultural, Valence, Espagne.
2015 Polvo al polvo La LLimera Associació Cultural. Valence, Espagne.
2014 Colectiva 1.0, Espacio 14 Huertas A.T.M., Madrid, Espagne.
2014 Mareas, Espacio 14 Huertas A.T.M., Madrid, Espagne.
2012 Ideas en Proceso, Reales Atarazanas, Valence, Espagne.
2012 Ideas en Proceso, Galería Puchol, Valence, Espagne.
2012 Nuovi Confini, GAM Le Ciminiere, Catane, Italie.
2009 Del Boceto al Cuadro, Ca Revolta, Valence, Espagne.
Residences
2015 Simposio Internacional de Artistas de Noja SIANOJA, Cantabrie, Espagne.
2015 Quiero una vaca #serigrafíamediosalvaje, Castro de Rey, Galicie, Espagne.
Meeting « The power of satire » with Antonio Asensi,
Madrid, 06/26/18
« To me, paint and live it's the same »
Antonio's work not only comprises painting (such as the works on display in our gallery); as a matter of fact, he is also the editor and creator of his own satirical magazine, in which he combines painting, photography, words and actions in what can be seen as a prolongation of his pictorial creations. Can you tell us a little bit about the contents of this magazine—INISIDIAToday— and reveal us how you came up with the idea for this project?
INSIDIAToday first of all was the result of my master's thesis with the title »Presence and process. Improvisation as a strategy for life and artistic creation« that was a reflection on my own creative process, which had, and still has, the intention of separating painting from the wall, of extracting it from its traditional context and inserting it into everyday life, into the game of life and art, if you will. To this end, I employ installation, sculpture, performance, photography and any other means or resources that I deem effective.
The magazine (or actually, fake magazine) was the most complete way I came up with when I though about the possibilities of displaying my photos of pictorial installations, models wearing my designs as clothes or on their skin, or the interventions I did in a number of spaces; all of which equated to the creation of new artworks in their own right. That way Painting and Art stopped being separated and we saw a dialog between the public's everyday experience and the paintings, tearing down the barriers between a more common conception of painting (unique, with its untouchable aura, only present when hanging on the wall) and its presence in the lives of its beholders.
On the other hand, and with a focus on my interest in everyday life in conjunction with painting, the form of an 'old-school' magazine reflects my intention as an artist (and as a political person on this planet) to employ my work in the service of the contemporary, feigning a rigorous and objective tone, appropriating the stylistic means of graphic and written journalism—like the tone of any ordinary communication medium— in order to orienting my painting towards a discourse of the present, distorted by the pictorial, just as any 'present reality' is distorted, embellished, constructed or interpreted by the editorial line of a newspapers. In fact, INSIDIAToday's name is not a product of chance: the Spanish word insidia (deceit, treachery, as in the English »insidious«) means trap, contrivance or artifice to harm someone; words or actions wrapped around a malicious intention.
And from this point of departure, I take into account the pure essence of a being a fallero (an adjective that describes the mischievous attitude of someone partaking in the Fallas, the carnival in Valencia): during these huge annual festivities, any of the effigies (also called fallas) in the streets that really takes itself seriously has to be critical with everyone and everything, regardless of political affiliations and other nonsense: anything and everything deserves to be burned on a pyre (that's what they do with the fallas at the end) and any form of kindness or tepidness is worse than hitting your own father.
»The INSIDIA style does not seek to eradicate or destroy what it calls into question, but to contemplate, celebrate and document its decadence, its glorious agony or pestilence, the apogee of its total fetidness« (director's note INSIDIAToday No. 2, Angela Mordor).
INSIDIAToday covers a great portion of your work. Could your paintings have been possible without the idea of this magazine?
INSIDIAToday is, above all, a magazine about a dialog between my paintings and the bodies of the models that wear them, with photography by Adolfo López and layout by Ángela Sabio. What I mean by that is that for me as a painter it is of equal importance to take painting out of the studio, 'out there', towards everyday life, and at the same time to make sure that there is a discourse in it that alludes to today's most pestilent problems and miseries, always clad in painting.
That is why I don't think my paintings could exist without INSIDIA, because INSIDIA is not a fanzine, nor a magazine, but a pictorial work, a strategy, a frame I set my paintings up in, garnishing them with journalism, bodies, photos and a lot of acerbity in order to send them flying towards the everyday and keep them alive that way.
Furthermore, INSIDIA's tone is deliberately unwieldy and prone to falsehood. It disguises as what it calls into question. It'd be overly easy to say, for instance, »economic neoliberalism kills« or »patriarchy is just the worst«, and there are so many other media, thinkers, and artists who do just that, and far better. But my own intention is not so much creating a novel and original discourse, but to produce a falla, an effigy, a pyre, a joke in the guise of a painting, set out to create maximum damage and, hopefully, a bit of laughter, which is the sharpest weapon I know.
Let us talk a little bit about why you have chosen figurative painting.
For me, figuration is an ideal device to make the discourses about reality that I employ more palatable. Figuration has the necessary depth and breadth to maintain itself fresh and certainly avant-garde, regardless of what contemporary artistic codes might say as they focus on demolition of the forms they consider conventional, in order to put their emphasis on political ideas and on exercises of an anti-academicist nature, centered on the systematic rupture of forms, which on the other hand perhaps already reached a point of exhaustion between the classical avant-garde and the art of the 60s, 70s, and 80s. That is to say, today's Academy is striving to be the Un-Academy, it tends towards an anti-academicism that battles an idea of the Academy that hasn't existed as such for more than a century! If our forms are broken already, why not paint just anything?… Even still lifes, even Velázquez, Sorolla, Manet! If modernity insists on the importance of the discourse, why not take a more traditional sculptural or pictorial form to convey this new discourse, since we've already come to the conclusion that form as such is dead? A contemporary Sorolla, for instance, would be little more than that: contemporary. It's impossible to escape the grip of today, and maybe 'new' and 'old' aren't always the most interesting categories to appraise anything, let alone art.
Although there is a very palpable, renewed interest in painting at the moment, the discourse that usually accompanies it tends to follow the scheme you have just outlined. As a figurative painter, do you consider yourself alienated from our current era, or do you simply feel like an observer who documents what surrounds him on his canvasses?
Actually, I have never really thought about whether I'm breaking with the forms of my time, nor if I'm just a seer-transmitter of what I perceive… that's a good question. I honestly don't know, I just strive to do my work as well as I know how. I think it is very difficult to bring about real innovation, in the formal and the discursive field alike, and I see this kind of intentions as an inane, and perhaps somewhat conceited, exercise… And still, there are people who break formal norms I had never even thought existed before, or who speak in languages and codes that seem so utterly fresh and outlandish to me. For me, living and painting is the same thing, as tired a trope as that might be… Sometimes I really have no idea how we human beings are able to get up in the morning and continue with this bedlam we call life, so I guess it's safe to say that knowing exactly what is it I'm doing with my life-painting is certainly the least of my problems.